PIVOT-60 swing door, natural veneer
Description of the collection
A novelty from UNION is a pivot door PIVOT-60 on a hidden box. The canvas is 60 mm thick in VENEER finishes with an end aluminum edge.
Hidden aluminum box and end aluminum profile are available in any of 9 possible finishes.
Advantages
- Door leaf 60 mm, increased sound insulation. Engineering construction, frame made of double timber of multilayer solid wood + two HDF panels.
- Finishing of the canvas: VENEER - natural veneer, matt lacquer.
- Aluminum end edge – additional protection and aesthetics.
- When the door height is more than 240 cm, the inside of the canvas is mountedthere is a special compensation rod for correcting possible bending.
- The box is aluminum, it is not subject to deformation when humidity and temperature change. Increased rigidity of the structure.
- The base finish of the box is anodized aluminum, Chrome Matt color. It can be both a finishing finish and a base for paintingat. During installation, it is possible to paint in any color together with the wall.
- The box, the end aluminum edge and the handle can be in any of the finishes offered by the manufacturer.
- Hidden reinforced swivel hinges.
- Silent magnetic lock AGB (made in Italy).
- Opening "From the opening - OUT" or "Into the opening - IN" while maintaining the coplanarnosti (a single plane with a wall).
- Maximum dimensions: width up to 120 cm, height up to 300 cm.
Openings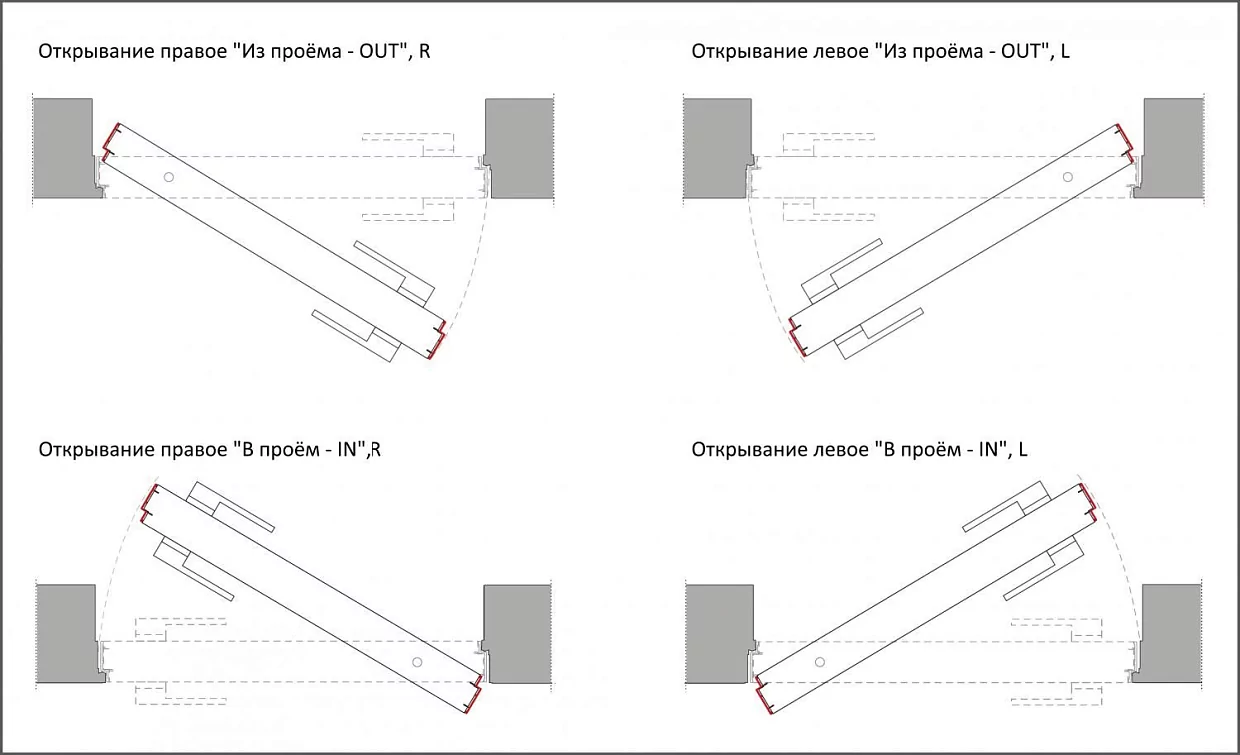 Preparation of the doorway
1. Prepare the necessary dimensions of doorway L2/H2 (width, height).
Attention! If you prepare the doorways for standard door sizes, you will have a discount.
2. The walls should be plastered by a vertical level (without deviations). They should be prepared for finishing work.
3. Floor. The door is installed on a level of the finish floor;
- finish floor or floor topping with a mark of finish floor level;
- the floor should be smooth, without weirs.
Minimal cost in collection
PIVOT-60, Alu, VENEER.
Price per set: canvas - Vento/Velino model, natural veneer Noce Canaletto, nominal size 60/70/80/90x200/210 cm, aluminum end edge and "hidden" box in Chrome Matt anodizing finish, sealer, hinges, magnetic lock.